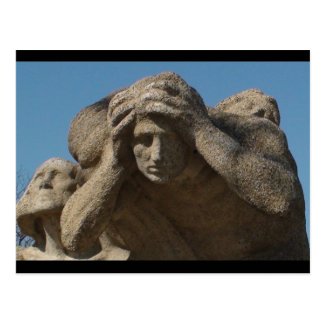 Gorgeous Chicago Statue / Fountain "Time" Postcard
by
MindsiMedia
Look at more Fountain of time Postcards at
zazzle
On our Zazzle store MindsiMedia we have just released a series of post cards of photos I took of the Fountain Of Time, a massive statue In Chicago's Washington Park. The park has always been kind of a buffer zone between Hyde Park the wealthier community to the east and the poorer communities to the west. The statue was originally constructed in 1920 as part of a park redevlopment project that included lagoons connected by canals. Across the street as Frank Lloyd Wright's new entertainment venue the Midway Gardens.That was the subject of an earlier post.The park was originally the far western edge of what was the Midway Plaisance the grand midway that served as the entry to the Columbia Exposition of 1893. The event that serves as the setting for Erik Larsen's "The Devil In The White City".
The statue has a rather extensive wikilinks post which I will share the beginning with you.
"Fountain of Time, or simply Time, is a sculpture by Lorado Taft, measuring 126 feet 10 inches (38.66 m) in length, situated at the western edge of the Midway Plaisance within Washington Park in Chicago, Illinois, in the United States.[1] This location is in the Washington Park community area on Chicago's South Side. Inspired by Henry Austin Dobson's poem, "Paradox of Time", and with its 100 figures passing before Father Time, the work was created as a monument to the first 100 years of peace between the United States and Great Britain, resulting from the Treaty of Ghent in 1814. Although the fountain's water began running in 1920, the sculpture was not dedicated to the city until 1922. The sculpture is a contributing structure to the Washington Park United States Registered Historic District, which is a National Register of Historic Places listing."
To read the rest http://en.wikipedia.org/wiki/Fountain...
Mr. Taft also designed the Fountain of the Great Lakes statue at the Art Institute of Chicago.